Feature Stories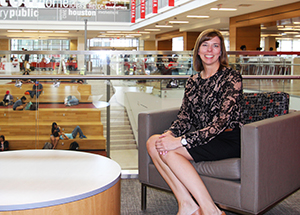 During the 2019 Alumni Banquet and Academy of Distinguished Alumni Induction Ceremony in October, the department recognized an outstanding young graduate who has become an influential leader in the engineering community. Kristi Grizzle-Gollwitzer was 2019's recipient.
This annual award is given to a graduate of the CAEE Department under the age of 40 who has distinguished himself or herself with outstanding service and contributions to the engineering profession and community.
Kristi M.(Grizzle)Gollwitzer, P.E.is Director of Projects at Scenic Houston where she drives streetscape and public space enhancement initiatives from concept to completion. She collaborates with an array of public and private partners to move these plans forward and to deliver capital projects on time and on budget. Prior to Scenic Houston, Kristi spent 15+ years as a structural engineer with Walter P Moore, an international, multi-discipline engineering firm. Kristi was promoted to stockholder and firm principal in 2014, making her the fifth female principal in the firm's 88-year history. With both project-level and leadership/management responsibilities, Kristi was the firm's first market sector leader for higher education pursuits. A true seller-doer, Kristi balanced the demands of bringing in new business while managing and engineering current projects. As a business developer, she tracked the market to find new opportunities and strategized with project delivery partners to win new work. Kristi served as Project Manager and Engineer of Record on the following key projects throughout the city of Houston: George R. Brown Convention Center Improvements, Rice University Music and Performing Arts Center, The Gordy at Stages Repertory Theatre and Garage, University of Houston Multi-disciplinary Research and Engineering Building, University of Houston Student Center Transformation.
To read about past recipients, please visit our Outstanding Young Alumni page.