Studio Classrooms
Civil, Architectural and Environmental Engineering students and faculty have two computer classrooms available for their use. The Studio Classroom 1 (SC1) located in room 2.210 consists of 25 desktop CPUs with seating for a total of 24 students. The Studio Classroom 2 (SC2) located in room 2.218 consists of 25 desktop displays with seating for a total of 24 students. This room is designed for laptop use. It does NOT have CPUs.
The computers in SC1 are equipped with Microsoft Office, engineering software, internet software, and more. A high-speed printer and plotter are available in the Learing Resource Center, ECJ 2.206, and staff are available upon request for assistance.
Both classrooms are equipped with a projection system to facilitate demonstrations and instruction. SC2 is equipped with desktop power outlets for laptop use.
Studio Classrooms Layout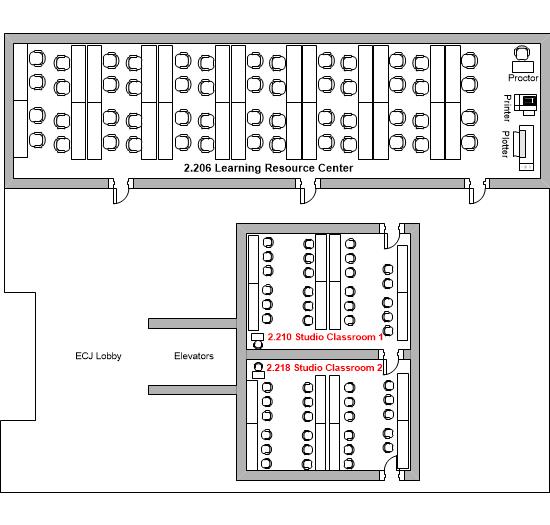 Spring 2023 Schedule

Mon - Thur 8 am - 7 pm
Fri 8 am - 5 pm
Sat Closed *
Sun Closed *

March 13 - March 17 Closed for Spring Break*
* Access card allowed
Software

• Adobe Acrobat 2020
• Anaconda
• BASP
• Biofilm
• Biogeme
• Corsim TSIS 6
• EPANET / SWMM
• GAMS IDE
• Groundwater Vistas
• HC7
• HEC-SSP
• HEC-HMS


• HEC-RAS
• Hydromantis CapdetWorks
• Hydromantis GPS-X
• MASTAN2
• MATLAB R2022a
• Microsoft Office & Project Pro 2019
• Notepad++
• Palisade Decision Tools
• Pipe2018
• R & R-Studio
• SPSS v26
• VLC Player
• 7-ZIP
Reservations
Open access to the Studio Classrooms is emphasized; therefore reservations will be limited.
All reservation requests should be made weeks if not months prior to the desired reservation time and personally coordinated with

This email address is being protected from spambots. You need JavaScript enabled to view it.

. Special software licensing, configuration, display equipment or multimedia console issues should be addressed at this time.
CE301, CE311K and CE311S have priority access to these rooms..
Classrooms will not be reserved exclusively, unless all resources are utilized. Therefore other students will have access to machines not being used.
View current reservations for Studio Classroom 1