The University of Texas at Austin was Abhigya Paudyal's dream university for graduate school in the United States from the moment he earned his bachelor's degree at home in Nepal.
Globally renowned and consistently ranked among the top programs in the U.S., it was UT Austin's commitment to its graduate program in the Cockrell School of Engineering's Department of Civil, Architectural and Environmental Engineering (CAEE) that caught his attention.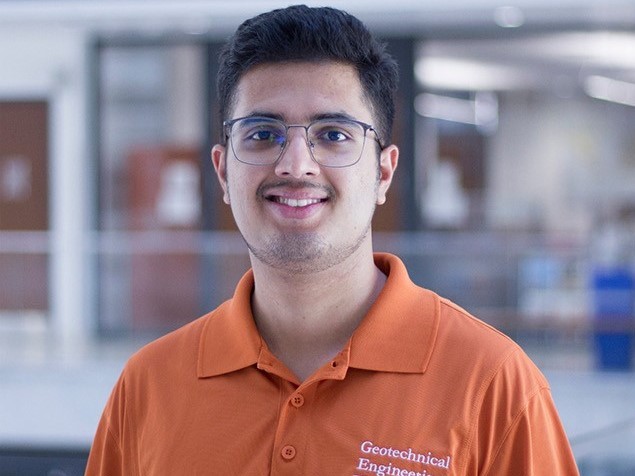 "The specialization in geotechnical engineering is considered one of the best in the States and also renowned in many parts of the world," Paudyal said. "The broad research, lab equipment and incredibly experienced faculty is what made me attend The University of Texas at Austin for my master's degree."
Paudyal earned his master's degree in civil engineering in May 2023, a year and a half after arriving from Nepal's capital city of Kathmandu.
Whether he was discovering the mayhem that is a Longhorn football game, learning how to swim, connecting with UT Austin's Nepalese community or leading several student organizations, Paudyal describes his time on campus as the most productive 18 months of his life.
He participated in the Nepalese Student Association and served as the vice president of the Geo-Institute, a graduate organization in the CAEE department that is affiliated with the American Society of Civil Engineers.
In the immediate future, Paudyal is heading to Washington, just 15 minutes east of Seattle, for an engineering job he's had lined up since last November.
"That's the beauty of UT Austin's engineering program," Paudyal said with a smile, referring to the prodigious job prospects available to UT Austin grads.