The Legacy Campaign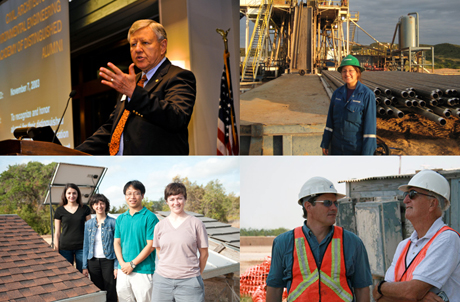 What is The Legacy Campaign?
People are the most important resource within the Department of Civil, Architectural and Environmental Engineering (CAEE) at The University of Texas at Austin. We have a bold vision to compete for the world's brightest student leaders. Recognizing our need to support human capital and our commitment to preparing for our future, CAEE is launching the Legacy Campaign, an alumni fundraising effort that seeks to raise $10 million over five years. The campaign will establish programs for Legacy Fellows and Legacy Scholars with endowed funds dedicated to attracting top graduate students and supporting undergraduate student researchers. Legacy Fellows will be recognized among the most prestigious graduate fellowships, and the Legacy Scholars will be distinct among our peer institutions, which typically lack the resources to fund undergraduate research.
The Legacy Campaign will enable CAEE to recruit the most sought-after graduate students and to engage our brightest undergraduates to work alongside faculty on visionary research that delivers real-world results, grows our economy, and creatively addresses the future's most daunting societal challenges.
Legacy Fellows
Today's graduate students are the next generation of technology creators, economy builders, society servers, researchers, and teachers. CAEE's national reputation hinges in part on the quality of graduate students we recruit. Prestigious, fully-funded Legacy Fellowships will enable CAEE to extend competitive offers and sustain our standing as one of the top five nationally ranked programs in the country. The Legacy Campaign will secure the financial resources needed to build a preeminent endowment for graduate fellowship support.
Legacy Scholars
There has never been a more important time to support undergraduates who are interested in research opportunities. Data show that working in a lab as an undergraduate significantly enhances the learning experience through one-on-one interaction, encourages pursuit of a graduate degree, and teaches skills that are highly valuable in the workplace. No matter the impetus behind a student's interest in undergraduate research, the benefit is dramatic. The Legacy Campaign will secure financial resources to permanently endow undergraduate research stipends.
Sustaining Excellence
More than 100 years since its founding, CAEE and its alumni continue to meet the challenges of maintaining, modernizing, expanding and securing the vast infrastructure that underpins our modern society while simultaneously working to sustain our environment for future generations. CAEE's success by any measure—top national rankings, graduation rates, and teaching awards—is tied to the accomplishments of its faculty, its graduate students, and its undergraduates. If CAEE is to continue to distinguish itself among peer institutions, it must invest in its most valuable resource—our students.
How it Works
Legacy Funds are housed together creating a larger, overall pool of support for CAEE undergraduate and graduate education. The return of the endowed Legacy Funds gives the department the highest flexibility to address critical areas of research and recruitment. If you would like to create your own Legacy Fund, please contact John Halton or 512-471-3395.
To view a Legacy Campaign handout, please CLICK HERE.