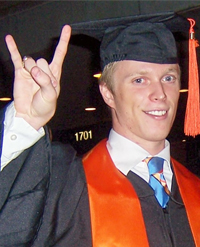 Christopher M. Yasick Legacy Fund
From the moment Chris stepped on campus as a freshman, he became a converted Texan - boots, barbeque, and all. Whether he was bleeding orange at a football game, taking pictures for the Music and Entertainment Committee and The Daily Texan, or bragging about the general superiority of his university, Chris loved every minute of his experience at UT.
He graduated in 2010 with a degree in Civil Engineering which he put to use as an Assistant Business Development Manager at Skyline Steel. He moved to Chicago in 2012 where he began pursuing a Masters in Structural Engineering at the University of Illinois at Chicago while continuing to support the Longhorns every weekend from his local bar with fellow Texas Exes.
Chris passed away suddenly on October 19, 2013 at the age of 25. He was an avid supporter of the Longhorns, an adventurous traveler, and an excellent photographer.
Give to the Christopher M. Yasick Endowed Legacy Fund.
Questions? Please contact John Halton at 512-471-3395.