Academy of Distinguished Alumni
Alumni Image #1:

Image Caption Title #1:

Khalifa Stadium Renovation - Doha, Qatar

Image Caption #1:

Qaddumi's firm, PROJACS International, is responsible for the Qatar Olympic and Sports Museum, a national institution for sports history and heritage, at the reconstructed Khalifa Stadium. Pictured is the existing concrete structure which was strengthened along with the skeleton of the new stadium is now complete.

Alumni Image #2:

Image Caption Title #2:

NBK Headquarters - Kuwait City, Kuwait

Image Caption #2:

Projects International was Project and Construction Manager of this capital project, a 62-floor National Bank of Kuwait building that is a significant addition to the city skyline . This bank branch offers full commercial banking services across a broad spectrum of areas including trade, contractor, corporate, retail and treasury.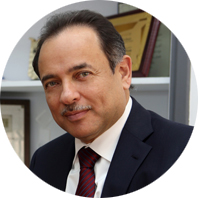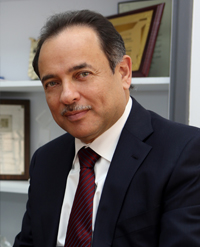 Nabil Hani Qaddumi
Ph.D., Massachusetts Institute of Technology, 1982
MS, Stanford University, 1977
BS, University of Texas at Austin, 1976
Nabil Qaddumi has combined academics and business ingenuity throughout his successful career. He is Chairman of Projacs International, the region's leading Arab project management firm and Chairman of Safwan Petroleum Technologies Co and Safwan Enviro-Chem Technologies Co. He has distinguished himself as an exceptional leader in global project management, consulting, public service and philanthropy.
Nabil started undergraduate studies at the American University of Beirut but came to The University of Texas at Austin because of the unstable situation in Lebanon. His performance here was remarkable. He then moved to Stanford University and MIT specializing in construction management. Upon graduation with a PhD, he was appointed as Assistant Professor at the Civil Engineering Department at Kuwait University.
While teaching and researching, he was involved in many other professional and consulting activities, including establishing his own company in project management in construction management, Projacs International, which became the leading regional project management company in the Arab world.
On behalf of governmental and private clients, independently and in joint venture with international firms, the company manages projects whose total construction value exceeds $10B, primarily in the Arabian Gulf countries. The company started with a staff of three and it now maintains a professional staff of over 600 employees from 24 different countries.
Nabil dedicates much of his time to giving back, especially in the area of education. He established a scholarship fund in the name of his father - The Hani Qaddumi Scholarship Foundation (HQSF) was created in 2001 as a not-for-profit foundation. HQSF believes in the power of education and philanthropy to revitalize Palestine. The Foundation assists outstanding Palestinian students to achieve their educational goals and to contribute to the development of their country.
In the public service domain, he is also Chairman of the Board of Trustees of the Welfare Association, which builds on a legacy born in 1983 with a steadfast commitment to improving the quality of life for Palestinians in the West Bank, Gaza Strip, 1948 Areas and Lebanon. He also is Deputy Chairman of the Arab Fund for Arts and Culture.