Academy of Distinguished Alumni
Alumni Image #1:

Image Caption Title #1:

DKR-Texas Memorial Stadium - Austin, TX

Image Caption #1:

Guerra and his firm worked on the north end zone expansion and utility relocations of the Darrell K. Royal Texas Memorial Stadium result in 90,400 + seating capacity. The project was constructed in multiple phases over three years, and both the building and stadium remained actively used by the athletics department and the football team throughout the duration of construction.

Alumni Image #2:

Image Caption Title #2:

BELO Center for New Media - Austin, Texas

Image Caption #2:

The Moody College of Communications' state-of-the art facility reflects the changing nature of broadcast journalism. Guerra and his firm provided complete mechanical, electrical, plumbing, and fire protection programming, engineering design and construction administration services on this project.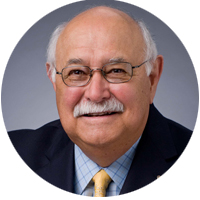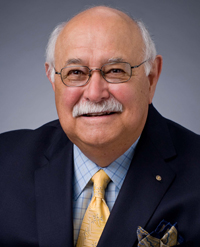 Jose I. Guerra
B.S., University of Texas at Austin, 1957
Jose I. Guerra was born and raised in Mission, Texas, in the Rio Grande Valley. Mr. Guerra earned a B.S. in Architectural Engineering at the University of Texas at Austin in 1957 and has had an exemplary career spanning more than 40 years. After founding a successful engineering firm in 1973, he has gained the respect and admiration of fellow engineers and young aspiring graduates in the engineering field.
Long active in professional engineering associations, Mr. Guerra has served as President of the Texas Society of Professional Engineers (TSPE), National Director and is presently serving as a Trustee of the Texas Engineering Foundation, and Chairman of ASCE/NSPE Task Force on the Pan American Union of Engineering Associations of Latin America. He served as a member and Chairman of the Texas Board of Professional Engineers.
His honors and awards are many, including Entrepreneur of the Year, 2003, Hispanic Engineers National Achievement Award Corporation; Distinguished Graduate Award, 2001, The College of Engineering at UT Austin; 2001 CE/ARE Alumni Award, Department of Civil Engineering at UT Austin; Outstanding Businessman, Greater Austin Hispanic Chamber of Commerce; Engineer of the Year, 1984, Travis Chapter, TSPE, District 587.
Recognized internationally, he was made an honorary member of Colegio de Ingenieros Civiles de Mexico and was appointed as one of six members of the U.S. Council for International Engineering Practice representing United States engineers responsible for implementing the NAFTA Agreement between the United States, Canada and Mexico. Recognized as a community leader, he has served many professional organizations, rising to positions of leadership in almost every instance. His community service includes: President, Executive Board, Capitol Area Council, Boy Scouts of America; Greater Austin Chamber of Commerce, Executive Committee, Leadership Austin; President, Greater Austin Hispanic Chamber of Commerce.