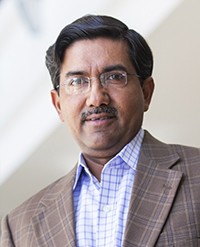 Rashed Islam
M.S., University of Texas at Austin, 1989
B.S., Bangladesh Institute of Technology, 1993
Passionate about enhancing the transportation system, Rashed Islam has been instrumental in implementing innovative, congestion-relieving ideas in Central Texas, some of which are the first of their kind in the state. He is a Vice President at HDR Inc., a global architectural, engineering and consulting firm where he manages the company's traffic engineering program in Texas, Oklahoma and Louisiana and oversees the firm's Central Texas Business Operations.
After completing his Master's degree from the CAEE Department in 1996, Islam started working as an EIT at WHM Transportation Engineering Consultants, Inc. here in Austin and became a Principal prior to WHM being acquired by HDR in 2006.
Islam has worked in the Texas transportation industry for 20+years. His inventiveness and balanced approach to solving traffic congestion problems have made him a trusted advisor for many of his clients including TxDOT, Williamson County, the City of Austin, Round Rock, San Marcos, Cedar Park and San Antonio.
He also led master planning efforts for several Central Texas cities and has provided professional traffic engineering and transportation planning services to many signature Austin development projects including Mueller, Domain, Hill Country Galleria, and Crestview Station TOD. His unique leadership and public engagement capabilities have also helped to build community support for many controversial projects.
He also finds time to pay it forward in the community. He was recognized by UT Austin's Division of Diversity and Community Engagement with a Community Leadership Award for his years of contributions to the Asian American Community. He is also a STEM outreach advocate and works with the Center for Excellence in Education.
Islam was recognized by the Division of Diversity and Community Engagement Department of the University of Texas at Austin with the Community Leadership Award in 2016 for his contributions in the Asian American Community. He has received a Community leadership award from BAGA and Volunteer of year Award from GACC.