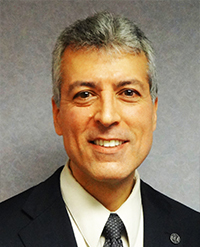 David T. Covarrubias
M.S., University of Texas at Austin, 1988
B.S., Texas A&M University, 1987
For nearly 30 years, David Covarrubias has excelled in the field of structural engineering, on both bridge and building projects. As CEO of Structural Engineering Associates (SEA), Inc., the leading bridge design firm in Texas, he is an outstanding and inventive engineer and business manager. Under his guidance, the firm has received national bridge design awards.
Covarrubias completed his master's degree at UT Austin with a focus in structural engineering and was advised by Dr. Ned Burns. He has spent his entire professional career working at SEA, Inc., the firm founded by his father, the late Jesse Covarrubias. After graduation, he started as an Engineer at the firm and worked his way up to his current executive position.
Covarrubias is an authority in the design of span and structural steel bridges and has developed new, innovative prestressed concrete beam types as well as software for the bridges he designed.
As project manager and structural designer, Covarrubias has been directly involved in several national, award-winning projects including the Santa Ursula Connector, Loop 340 Overpass, World Trade International Bridge and Border Facilities, and the Pharr-Reynosa International Bridge. Other notable projects include the Alamodome, San Antonio International Airport parking garage, and the Loop 410 and Highway 281 Interchange.
He is especially proud of the projects that presented challenges such as designing bridges for large, heavy construction vehicles. Covarrubias feels that his greatest professional accomplishment is the design and construction of the Pharr-Reynosa International Bridge, a 3-mile long structure crossing the Rio Grande River in Pharr, Texas.
Covarrubias also regularly shares his expertise with professional societies and gives back to his city of San Antonio through civic activities. e is active in the American Institute of Steel Construction, the San Antonio Mobility Coalition, and Transportation Advocates of Texas.