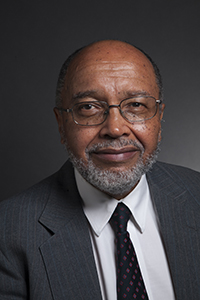 Dan L. Wheat
PhD, Colorado State University, 1980
MS, University of Denver, 1973
BS, University of Colorado, Boulder, 1969
A skilled professor and researcher in structural analysis and wood structural design, and a dedicated and caring undergraduate advisor, Dan Wheat provided high quality service that contributed to this department's success for 35 years. He made numerous contributions to the area of behavior and design of wood structures, helped countless students succeed at UT Austin, and keenly introduced students and families to our department for the first time.
Wheat's years at UT Austin were filled with four disparate, sometimes overlapping experiences: Floor and shoring research tests; computation related to nonlinear structural behavior and piezoelectric behavior of wood; field studies, and undergraduate advising.
Arriving at The University of Texas at Austin in 1980, his primary research interests were in the modeling and testing of light-frame wood structures, and through work mostly at the Ferguson Structural Engineering Laboratory, where he developed one of the largest depositories on the empirical behavior of light-frame parallel-member floor, wall, and roof systems
Wheat served as the department's undergraduate advisor from 1996 to 2015 while continuing to teach classes and conduct research. He maintained a strong, close relationship with the Texas Department of Insurance's Windstorm Inspection Program, serving on committees, presenting short courses; and traveling on field investigations for Hurricanes Claudette, Rita, and Ike.
Wheat helped countless students connect with their own resilience and self-confidence, develop strategies to improve academically, and often went "beyond the call of duty" to help them successfully complete their undergraduate degree. He is proud of his time as undergraduate advisor, especially the personal communication with those undergraduate students who struggled but are now members of the profession.