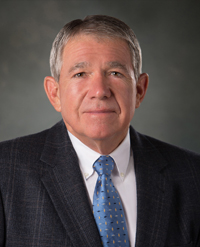 Dewayne H. Hahn
MS, University of Texas at Austin, 1974
BS, University of Texas at Austin, 1973
Dewayne Hahn has been responsible for the construction of unique projects that incorporate engineering elements to withstand earthquakes, terrorist blast, large spans and exacting tolerances. He was an early adopter of technology on the job site and implemented LEAN construction techniques in some of the earliest applications in the United States.
Upon graduating with a master's degree in 1974, he began his career at Linbeck Construction Corporation and continues to work for Linbeck some 42 years later.
At 30 years old, Dewayne recalls being assigned to be the Project Manager on a 55-story, 1.2 million square foot office tower with a 16-story garage and connecting tunnel. He says, "Mr. Linbeck placed a huge amount of trust in my ability and it was extremely motivating."
Over the course of his career, Dewayne has served in numerous roles at Linbeck and two sister companies that are engaged in masonry and concrete structures. His current assignment is project executive for some of Linbeck's most complex projects, while serving as a mentor during difficult projects.
Throughout the years, Dewayne has embraced technological advances in the field of construction engineering that have drastically changed the jobsite and streamlined information sharing. He also continued his learning at the Executive Program for Growing Companies at Stanford University.
He has also taught many superintendent and project management classes for the Associated General Contractors of America and served on the CAEE Department's External Advisory Committee.
Dewayne has assisted numerous non-profit associations' building projects that have very limited budgets and has been involved in hurricane and tropical storm recovery efforts. An advisor to young engineers and project managers, he also allows our graduate students to conduct research studies on Linbeck construction projects.