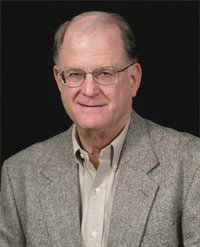 J. Crozier Brown
MS, University of Texas at Austin, 1967
BS, University of Texas at Austin, 1965
Crozier Brown has been a leader and early adopter in the use of information technology to find civil and petroleum engineering solutions. When Global Positioning Systems (GPS), Geographic Information Systems (GIS) and satellite imagery were new technologies, he was an early adapter who learned how to apply these tools to the engineering discipline, demonstrating their value and guiding users.
Born in Waco, Texas, Brown came to The University of Texas at Austin after graduating high school. He says that his college education provided a broad foundation on which he built several careers: consulting engineer, research engineer, private consultant, and entrepreneur. He feels that his greatest professional accomplishment was the ability to successfully move between diverse industries and multiple disciplines, and witnessing civil engineering projects in motion.
After joining Atlantic Richfield in the late 1970's, Brown pioneered the marriage of computers to airborne remote sensing, data automation and both surface and subsurface data storage and analysis. In this role, he managed the development and implementation of GIS for the company's research lab of nearly 500 professionals. He also designed and managed the development and implementation of a geologic "living map" of the North Slope of Alaska consisting of maps of several hundered components.
For over 25 years, he led his own company, J. Crozier Brown and Associates, and served small and mid-sized engineering offices as a consultant information technology. As a consulting engineer, he applied IT to the construction industry. He co-authored the computer software used to design the drainage system for the 18,000 acre Dallas-Fort Worth International Airport.
Brown has been an active leader and contributor in the American Society of Civil Engineers at the local Dallas Branch and section levels as well as the ASCE National Technical Council on Computer Practices. An ASCE Fellow, he has served in many committee leadership roles where the policies and procedures were being developed for the use of computers in the civil engineering profession.