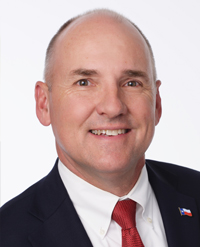 William B. Ratliff
BS, University of Texas at Austin, 1983
Bennett Ratliff currently serves as President of The Ratliff Group, LLC, the firm he founded in 2002 specializing in construction management for the private sector. He has grown the firm into one of the top one hundred nationally recognized firms in the design and construction of automobile dealerships. His career also includes significant community service with his local school district and the Texas State House of Representatives.
Born in Fort Worth, Texas, he graduated from Westchester High School in Houston and followed his father's footsteps to major in civil engineering at The University of Texas at Austin. As a student, Ratliff was a member of Chi Epsilon.
He has been recognized for contributions to his profession with the Edmund Friedman Young Engineer Award for Professional Achievement in 1990 by the American Society of Civil Engineers and the 2013 Distinguished Engineer of the Foundation by the Texas Engineering Foundation.
Ratliff was also the designer of the first US Green Building LEED Certified automobile dealership. He recognized the national importance of LEED designed projects and became personally certified in 2007.
In his community, Ratliff's service for nine years as a Trustee on the Coppell School Board and in the Texas House during the 83rd Legislative session were rewarded by nominations in both 2013 and 2014 for the Dallas Morning News Texan of the Year in Education.
He was also named to the "Legislator Hall of Fame" by the Texas PTA, Legislative "Champion" by the Texas Retired Teachers' Association, and awarded an Honorary Life Membership in the Texas PTA for distinguished service to children. Ratliff has been a mentor and sponsor of the Coppell High School Engineering Academy and Solar Car Team since its inception while he was on the school board.