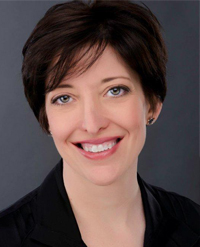 Julia M. Harrod
MS, University of Texas at Austin, 1994
BS, Massachusetts Institute of Technology, 1990
Julia Harrod is the President and CEO of MWM DesignGroup, a multi-disciplinary firm providing civil engineering, architecture, land surveying, landscape design, and permitting services throughout Texas. She is recognized for excellence and leadership in her profession and in technical and civic programs. She is also an avid volunteer, from STEM outreach to serving as national treasurer for National Society of Professional Engineers and advocating for the professional engineering community.
After earning her Bachelor of Architectural Design from MIT in 1990, Harrod spent nine months in Bath, England working for an architectural engineering firm. After arriving back in Austin, she began work at Martinez & Wright Engineers (now MWM DesignGroup) as a design technician. It was here that she changed career paths from architecture to engineering. While still working at MWM, she came to The University of Texas at Austin to complete her education by earning a master's degree in architectural engineering in 1994.
She now serves as project principal and chief quality control reviewer for all the firm's engineering and landscape architectural projects. As president of the company, she is also responsible for the firm's strategic initiatives and financial operations.
Over the years, clients at MWM include the City of Austin, Capital Metro, Austin Community College, and Texas State University. Julia has overseen large site projects as well as utility and transportation infrastructure improvements.
Julia has also made notable contributions to the engineering profession through advocacy and outreach at both the local and state level. She is currently serving as the National Treasurer of the National Society of Professional Engineers. She has also served as the President of the Texas Society of Professional Engineers and the Austin Branch of the American Society of Civil Engineers. Julia was named State Engineer of the Year by the Texas Society of Professional Engineers in 2015.