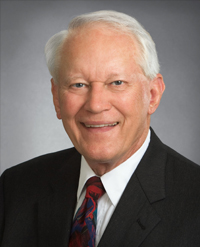 Edward E. Reed
BS, University of Texas at Austin, 1957
BBA, University of Texas at Austin, 1957
Edward Eugene "Gene" Reed, has been a true leader in the fields of construction and engineering. He has made many contributions to the construction industry in Houston and many other parts of the country and has been generous with his time and treasure to many civic and charitable organizations in the U.S.
A 1957 graduate of the University of Texas Engineering and Business Schools, Gene went on to join the U.S. Air Force and also had a 17 year career with Harvey Construction Company.
In 1977, he founded EE Reed Construction Company. Though it began as a small firm doing industrial work, the company has grown to take on all project types throughout the nation. In addition to its Sugar Land, Texas, headquarters, the company has offices in Dallas and Austin, Texas; Washington, D.C.; Phoenix and San Diego. Offering pre-construction, design/assist and construction phase services, EE Reed Construction has compiled a large portfolio of projects in more than 14 states.
Gene says one of the most unusual projects, he has ever completed is the neutral buoyancy laboratory. It is the largest "swimming pool" in the world where astronauts learn to adapt their movements to the weightless environment of space. The project included a 6.2 million-gallon zero-gravity simulation tank; supporting control center, medical center, scuba service, and hyperbolic chamber.
EE Reed Construction is a major force in the Texas-Louisiana oil and gas industry. The company has also built office buildings in Houston's Energy Corridor that have received excellence in construction awards. Other projects include residential towers and the first-ever built, six story tilt-wall office building in Texas.
A project of great pride to Gene is the Sugar Land Memorial Park Veterans Memorial. EE Reed Construction volunteered to build the memorial and while Gene served as President of the Sugar Land Legacy Foundation. In addition to serving his community and church in Sugar Land, he is also active on UT Austin campus as a member of the Littlefield Society, Longhorn Foundation, UT Chancellor's Council and Friends of the University PAC.