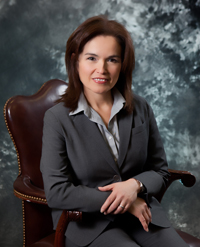 Patrica S. Metcalf
MBA, Rice University, 2003
BS, University of Texas at Austin, 1985


Patricia Metcalf is a Business Manager at ExxonMobil who is a project controls professional in the oil and energy industry. She has made significant international contributions in engineering and management, and is dedicated to the advancement of women and minorities in the workplace. She has helped many women and minority students go into engineering, stay in school and become successful professionals.
Growing up, Metcalf helped her father with various construction projects around the house. Those experiences coupled with her skills in math and science brought her to The University of Texas at Austin to earn a civil engineering degree. And since graduation, Pat has given back on many levels to the university that educated her.
Metcalf joined ExxonMobil in 1985, and the first 15 years of her career were in fuels marketing. Her first assignment as a Construction and Maintenance Engineer involved building service stations from start to finish. She set a construction record of 14 days for building a retail store when the national average time was 60 days.
ExxonMobil develops managers by providing many different experiences; so, when the company recognizes talent, successful employees are moved around a lot. Pat moved through various engineering and commercial roles in her 15 years including Environmental Engineering, Territory Manager, Distribution Analyst, and Jet Fuel Pricing Lead.
She was working on her MBA when Exxon merged with Mobil, and took the opportunity to try the commercial side of the business. She wrote economic models for a number of transaction deals, particularly for pipeline deals. In 2000, she moved to Gas & Power Marketing. Pat moved through various assignments including Business Analyst, Asia Pacific and Power Support Lead, and Commercial Practices & Controls Advisor.
She began supporting ExxonMobil's Public Affairs group by speaking to middle school girls at HESTEC, a Hispanic education conference at UT Pan American for STEM fields. She initiated the development of GOAL, the Global Organization for the Advancement of Latinos Houston Chapter in 2006, and still participates on its Advisory Board.
Metcalf joined Exxon's recruiting team in 1987, and has been recruiting at UT Austin since that time. She also has served as the key contact for SPHE, Pi Sigma Pi and ASCE on ExxonMobil's UT recruiting team. In February 2007, Metcalf moved to ExxonMobil Development Company where her responsibilities involve offshore fabrication.
Metcalf has also served on the CAEE Department's external advisory committee and has been a guest lecturer at UT. She and her husband Charles (BSCE '85, MSCE '87), also a graduate of the department, support students financially through a Legacy Fund they created.