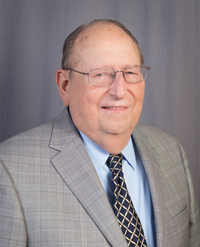 Joseph F. Malina, Jr.
PhD, University of Wisconsin at Madison, 1961
MS, University of Wisconsin at Madison, 1959
BS, Manhattan College, 1957
Joe Malina joined the Department of Civil Engineering at The University of Texas at Austin as an assistant professor in 1961. In this capacity, he supervised more than 150 M.S. students and 25 Ph.D graduates. He also served as department chair from 1976 to 1988.
As the C.W. Cook Professor in Environmental Engineering and as a part of the Environmental Water Resources Engineering Program, his research has addressed a wide range of topics, from studies on the treatability of municipal and industrial wastewater to the environmental impact of highway construction and highway runoff. Courses designed by Joe on advanced water pollution control have shaped treatment plant design and operations across the world. He has also long focused on the ethical responsibilities of engineers to protect the health and safety of the public.
Joe is a founding member of the ASCE Environmental and Water Resources Institute and has served as a program evaluator for the Accreditation Board for Engineering and Technology for more than 30 years.
Joe has been a licensed professional engineer since 1970, a Board Certified Environmental Engineer of the American Academy of Environmental Engineers since 1972, and a Diplomat of the American Academy of Water Resource Engineers since 2007. He is also a lifetime member of the American Society of Civil Engineers. His activities in professional organizations have been recognized with numerous national awards, including the Gordon Maskew Fair Award from the Water Environment Foundation. He has also been recognized as Professional Engineer of the Year in Travis County.
In 2012, Joe retired after working more than half a century at The University of Texas at Austin. He leaves behind a legacy as a department and industry leader, a mentor, and a respected educator, who taught thousands of engineering students about biological treatment of wastewater and the design of wastewater plants.