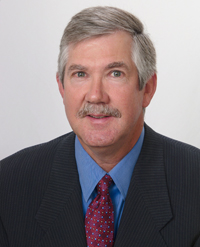 Jonathan T. Motherwell
M.S., University of Texas at Austin, 1976
B.S., Missouri University of Science & Technology, 1974

Jonathan Motherwell is a consulting engineer with more than 35 years of experience in the environmental and geotechnical engineering fields. He has worked on numerous projects around the world related with the oil and gas, mining, power, and chemical manufacturing industries and is recognized for his leadership contributions related to the permitting of numerous major projects by integrating civil, environmental and social considerations.
Motherwell received his BSCE degree in 1974 from the University of Missouri-Rolla (now the Missouri University of Science and Technology).He earned his MSCE degree from UT Austin and credits his professors – Roy Olson, Steve Wright, Ken Stokoe, and Lymon Reese – with helping to launch and support his career.
He started his career with D'Appolonia Consulting Engineers in Brussels, Belgium and focused on project siting and development in Europe and the Middle East. After moving to Houston for a project assignment, he also became involved with contamination and remediation projects in the U.S. and Latin America. He has held senior positions with several major consulting and engineering companies including Dames & Moore, URS, and ERM. At Dames & Moore, he served as manager of the firm's Houston office and subsequently helped open several offices to form a Gulf Coast region.
Following URS's acquisition of Dames & Moore, he served as a Senior VP for services to the petroleum industry, involving a portfolio of $100M of services annually and coordinating staff around the globe. He was recruited to ERM and led the firm's global practice for oil and gas clients as senior partner.
Since forming his own company in 2008, Motherwell has focused on project siting, development and construction in a sustainable manner which integrates engineering, environmental and social issues. This includes satisfying the environmental and social performance standards of the International Finance Corporation (IFC), a member of the World Bank Group. Recent assignments include projects in Texas, Ghana, Mozambique, Papua New Guinea, Kazakhstan and Brazil working for oil & gas companies and international financial institutions.