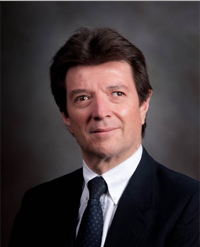 Roberto T. León
Ph.D., University of Texas at Austin, 1983
M.S., Stanford University, 1979
B.S. University of Massachusetts-Amherst, 1978
Roberto León is the David H. Burrows Professor in Construction Engineering at Virginia Tech and is one of the leading researchers in the field of steel-concrete composite structures and earthquake engineering. His work has affected numerous national and international design codes and he has made original contributions in the areas of steel bolted connections, partially-restrained composite frames, composite joists, unreinforced masonry behavior, composite columns and innovative steel structural systems.
León has also held academic positions at the University of Minnesota and Georgia Tech. He brought distinction to each of those programs through his research and teaching endeavors, and directed or co-directed nearly $7M of external research funding at those institutions.
A dedicated instructor and research advisor, he is well-respected and sought out as a graduate advisor as reflected by the large number of students he has advised or co-advised. His commitment to his profession through technical societies and committees has led to numerous leadership positions, including president of the Structural Engineering Institute.
He also served as President of the Consortium of Universities for Research in Earthquake Engineering, President of the Network for Earthquake Engineering Simulation (NEES), President of the Board of Governors of the Structural Engineering Institute of ASCE, and a Board Member for the Applied Technology Council and the Earthquake Engineering Research Institute.
Among the recognitions for his work are the Norman Medal in 2000, the State-of-the-Art Civil Engineering Award in 1996 and 2000, and Huber Prize in 1988 and the T.R. Higgins Lectureship Award from the American Institute of Steel Construction in 1993.
León's forensic engineering work has also led to a greater understanding of engineering failures such as the tragic I-35W bridge collapse in Minneapolis in 2007. He also helped lead a large analytical and experimental program to determine the strength and failure modes of gusset plate connections on bridges.