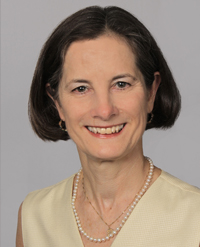 Candice E. Koederitz
MA/MBA, Harvard Graduate School of Business Administration, 1982
B.S., University of Texas at Austin, 1978
Candice Koederitz grew up in San Angelo, in West Texas, as the second oldest of four girls, and the daughter of an engineer who introduced her to the field at an early age. Throughout her professional career, she utilized her outstanding analytical skills honed as a civil engineer to become a corporate finance expert and innovator. She spent over 30 years at Morgan Stanley, rising to be the Head of Capital Markets, coordinating global capital management.
Koederitz completed her B.S. in Civil Engineering in 1978 as the top student in her graduating class. After UT, she worked as an engineer for Exxon Chemicals Americas in Baytown, where she executed engineering design, material procurement, construction and start-up of projects relating to improved quality control, capacity or environmental needs. She later earned a master's degree in business administration at Harvard Business School. There, she was introduced to the world of finance and Wall Street and never looked back.
In New York, Koederitz was an instrumental team member in the creation and development of new securities and product offerings including equity redemption cumulative preferred stock (PERCS), global bonds, and collateralized bond obligations. She was also a team leader in capital raising for corporate and government clients.
She spent four years in Hong Kong and Singapore at the time of the opening of the capital markets for China as well as the currency and economic crisis of Asia. For two of these four years, she was chief executive officer of Morgan Stanley's business for all of Southeast Asia.
The financial crisis of 2008 led to new banking regulations. Koederitz has since focused her energy and expertise on positioning the Morgan Stanley for the new regulatory requirements and resulting changes in the financial industry. In a short time, she advanced from Global Head of Regulatory Implementation to Head of Capital – in this role she coordinates capital management globally for the Financial Holding Company.