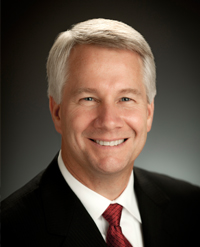 Samuel G. Dawson
B.S., University of Texas at Austin, 1983


Sam Dawson serves as chief executive officer of Pape-Dawson Engineers, Inc. and has guided the company's growth into one of the largest and most respected firms in the state. Throughout his career, Dawson has also made a mark on Texas and education. His record includes hours of volunteer service, which support many professional, charitable and community organizations.
After graduation from UT Austin, Dawson went to work at the firm his father, Eugene Dawson, co-founded. His vast project experience includes federal/state highways; master development of residential, commercial, and industrial developments; sport facilities; public school campuses; floodplain modeling and reclamation; municipal and private wastewater collection and water distribution systems; and water pollution abatement facilities.
He learned the value of community service from his family, who have been involved in every area of philanthropy in San Antonio and South Texas for generations.
Dawson has served as president or chairman of the following: San Antonio Chamber of Commerce, UTSA Engineering Advisory Council, Trinity Baptist Church Deacon Council, Texas Society of Professional Engineers, American Society of Professional Engineers, Professional Engineers in Private Practice, Rotary Club of San Antonio, The Tobin Center for the Performing Arts, and the Witte Museum.
In 2012, he was selected as Engineer of the Year for the Bexar Chapter of the Texas Society of Professional Engineers.In 2013, he was inducted into the Honor Society of Phi Kappa Phi and received the Alumni Association Distinguished Service Award from The University of Texas at San Antonio (UTSA)
Most recently, for his contributions to engineering education and the engineering program at UTSA , the engineering college created the Samuel G. Dawson College of Engineering Endowed Scholarship.
Dawson has also been a strong supporter of UT Austin and been a member of the Cockrell School's Engineering Advisory Board since 2003. In 2012, he was appointed chair and served for four years in this role. He and his wife, Laura, live in San Antonio with their two children, Taylor and Kendall.