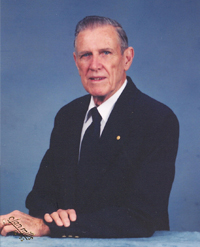 Robert L. Reed
B.S., University of Texas at Austin, 1946
Bob Reed was born and raised in Leon County, Texas. He enrolled at the University of Texas in 1943 as a member of the Navy V-12 program, graduating in 1946 with a Bachelor of Science in Civil Engineering and a commission in the Navy.
Bob's 43-year career with the Texas Highway Department (later TxDOT) began in 1947, interrupted temporarily in 1950 by a two-year term in the U.S. Navy. After graduating from the Navy's Civil Engineer Corps Officer's Training School, Bob served the remainder of his tour of duty in Portsmouth, New Hampshire, as Power Plant Engineer and Transportation Engineer for the Portsmouth Naval Shipyard.
Upon returning to civilian service with the Highway Department in 1952, Bob served as Engineer for Bridge Design, overseeing all design and plan preparation in the Austin headquarters. His influence on bridge design spanned many years and impacted a period of unprecedented growth in Texas interstate highway system. He was instrumental in developing innovative techniques for maximizing efficiencies in prestresssed concrete beam use in Texas and supervised the design of many steel highway and railroad structures throughout the state. He received a James F. Lincoln Arc Welding Foundation award for welded bridge design in 1970 and the Gibb Gilchrest Award for Outstanding Highway Service in 1972.
Bob has been an important contributor of technical ideas that made useful research subjects for faculty of the Ferguson Structural Engineering Laboratory. His innate problem-solving skills led UT researchers to undertake more comprehensive studies in bridge construction.
After retiring from TxDOT in 1985, Bob worked as consulting engineer for HNTB before returning in the 1990's to compose a comprehensive Bridge Design Manual. The Internet-based manual is still in use today.