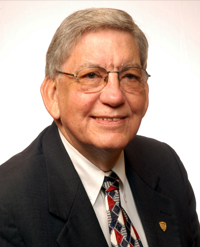 Bobby E. Price
Ph.D., University of Texas at Austin, 1967
M.S., Oklahoma State University, 1963
B.S., Arlington State College (UT-Arlington), 1962


Dr. Bobby E. Price, P.E. has made a life-long commitment to engineering. His demonstration of excellence in the practice and teaching of civil engineering has earned him national recognition. In addition, he has assumed leadership roles in key engineering organizations.
After 32 years of service, Dr. Price retired from Louisiana Tech University in June 1999 with the rank of Professor Emeritus. For many years, he taught undergraduate and graduate courses in hydraulics and water resources, conducted numerous seminars and workshops and served as Civil Engineering Program Chair. While a faculty member, he received several Louisiana Tech prestigious teaching and service awards and was Louisiana Tech's 1999 Spring Commencement Speaker (first faculty member to ever speak). A Distinguished Professorship has also been established in his name.
His dedication to technical and professional efforts continued when Dr. Price served as the 2004-05 President of the National Society of Professional Engineers. As a Fellow member, he chaired various committees, served as Southwestern Regional Vice President, Louisiana National Director and has been on several task forces within the organization.
Dr. Price also served as the ASCE Louisiana Section President, ASCE Student Chapter Faculty Advisor at Louisiana Tech and presently serves on the ASCE Committee for Academic Prerequisites for Professional Practice.
His career of service extends beyond the national level to local and civic endeavors in his own backyard. Dr. Price was President of the Louisiana Engineering Society and the Louisiana Engineering Foundation. He is married to Patsy Patrick Price. They have two children, Barry E. Price and Kami Price Proulx as well as one granddaughter, Megan Price.