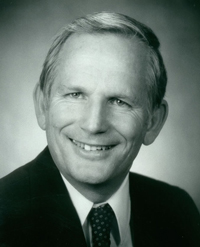 B. Frank McCullough, Jr.
Ph.D., University of California at Berkeley, 1969
M.S., University of Texas at Austin, 1962
B.S., University of Texas at Austin, 1957
Dr. Frank McCullough is known nationally and internationally as the "Father of Continuous Reinforced Portland Cement Concrete Pavement" for his pioneering and continuing development work in Continuous Reinforced, Post Tensioned, and Precast Concrete pavements. His research and design in the area of pavement has led to numerous specifications, design methods, and construction procedures for concrete pavement used by the Texas Department of Transportation and countless transportation agencies around the United States and the world.
In 1957, McCullough was employed at the Texas Highway Department as a Design-Research Engineer. He was determined to become a transportation researcher and professor, and enrolled in evening classes at the University of Texas to pursue his goals. After completing his doctoral degree at the University of California at Berkeley in 1969, he joined the faculty at the University of Texas at Austin and is currently Professor Emeritus of Civil Engineering.
Under his leadership as the second Director of the Center for Transportation Research (1980 to 1999), the center's budget grew from $3 million a year to more than $12 million. McCullough followed Dr. Clyde Lee's precedent in facilitating the involvement of all Civil, Architectural and Environmental programs in TxDOT research, thereby benefiting the entire department.
McCullough has worked in airport runway, taxiway, and apron pavement design studies at Chicago O'Hare, Washington Dulles, Dallas-Fort Worth, Palmdale Air Force Base, Randolph Air Force Base, Tulsa, Salt Lake, Indianapolis, and St. Louis. Additionally, he has worked on the Hefddah, Riyadh, and Dhahran Airports in Saudi Arabia. He designed the guideways for the 150 mph air cushion vehicle in Pueblo, Colorado, and the AIRTRANS people mover at the Dallas-Fort Worth Airport.