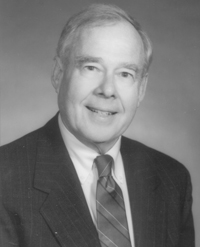 George C. Love
B.S., University of Texas at Austin, 1951
George C. Love earned his bachelor's degree in architectural engineering in 1951 from the University of Texas at Austin. The first professional experience he gained was with the U.S. Army Corps of Engineers as an instructor at its engineering school. In 1953 he joined Bovay Engineers as a design engineer and in 1965 he became vice president. While with Bovay he was chief engineer for a U.S. Atomic Energy project in Washington and project manager for four Johnson Space Center facilities designed by his company. He joined Limbaugh Engineer Inc., in Albuquerque in 1965 as vice president and chief engineer. At Limbaugh he was project engineer on the Very Large Array site selection project for National Radio Astronomy.
In 1968 he returned to Bovay Engineers and was project manager for Engineers of the Southwest for the preparation of the airport master plan for Houston Intercontinental Airport. Love became senior vice president and a director of Southwestern Laboratories, Inc., in 1981. He was principal in charge for all material testing and inspection services for the construction of Houston's Transco Tower, as well as the Hardy Street Toll Road.
Since 1994 he has been vice president of HBC Engineering Inc. in Houston and is one of the firm's founding principals. HBC provides professional services in environmental, geotechnical and construction materials engineering.
He was selected as the 1997 Engineer of the Year by the Texas Society of Professional Engineers. The Texas Engineering Foundation named him the Distinguished Engineer of the Year in 1995. He was selected TSPE Region IV Engineer of the Year in 1997. He was also a national director for the National Society of Professional Engineers from 1993 through 1995. In 1998 he was named a Distinguished Engineering Graduate by the College of Engineering at The University of Texas at Austin.