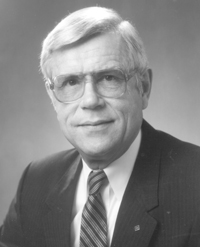 John A. Focht, Jr.
M.S., Harvard University, 1947
B.S., University of Texas at Austin, 1944
John A. Focht, Jr. received his B.S. in Civil Engineering from the University of Texas at Austin in 1944; he received his M.S. in Civil Engineering from Harvard University in 1947. He served in the U.S. Army as a Captain in 1944-1946, and again from 1950-1952. He worked at the U.S. Waterways Experiment Station in Vicksburg, Mississippi from 1947-1953, and at McClelland Engineering, Inc. from 1953-1991 before retiring as Executive Vice-President and Chief Engineer. Mr. Focht was responsible in part for McClelland's growth from a small Houston group of about 20 to a multi-national organization of more than 800 employees offering a wide range of geotechnical services to industry and government. He has been a consulting engineer since retiring from McClelland.
Mr. Focht has received numerous awards, including Distinguished Engineering Graduate, University of Texas, in 1964. He received national awards from the American Society of Civil Engineers for five of his more than 40 papers, mostly on dams, pile foundations, and offshore structures. He was elected to the National Academy of Engineering in 1986. He was Houston Engineer of the Year and Texas Engineer of the Year in 1987. He served as President of the American Society of Civil Engineers from 1989-1990. Focht was ASCE Terzhagi Lecturer in 1993; a National Honor Member of Chi Epsilon in 2000; an ASCE GeoInstitute "Hero" in 2002; and received the Texas Section, ASCE Lifetime Achievement Award in 2002.