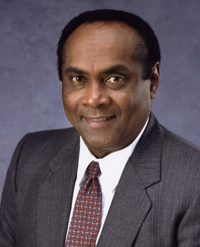 W. Paul Dunn
B.S., University of Texas at Austin, 1962
past member - deceased
Paul Dunn was a leader at the interface of aerospace and civil engineering whose technical expertise contributed to the success of the U.S. space program. He led objective technical analyses and assessments for a variety of government, civil and commercial organizations. He worked on a number of space vehicle systems, including medium launch vehicles, the Interim Upper Stage, Centaur, Titan rocket motors, system integration, and launch systems analysis.
Dunn was among the first wave of black students who integrated The University of Texas at Austin, earning a B.S. in Civil Engineering. While at UT, he participated on a medal winning intramural track team which set the record for the 880-yard relay, and became a charter member of the Alpha Phi Alpha fraternity..
He went on to earn a master's degree in civil engineering from California State University at Los Angeles, and an MBA from California State University at Dominguez Hills.
After graduateion, Dunn's professional career included employment at Northrop Corporation, TRW Systems Group and Rocketdyne. He was also a part-time Assistant Professor at California State University, Los Angeles.
In 1977, he joined The Aerospace Corporation, a federally funded research and development center committed exclusively to the space enterprise. As a technical expert, he held the positions of Engineering Specialist, Senior Engineering Specialist, and Senior Project Engineer, and was later appointed Principal Director of the Launch Systems Analysis Directorate, Space Systems Group.
Among his many honors is the Distinguished Graduate Award received in 1993 from The University of Texas at Austin, the highest award given by the Cockrell School of Engineering.