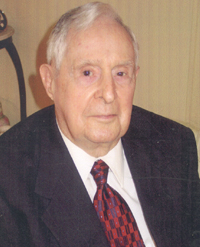 B. Luther DeBerry
B.S., University of Texas at Austin, 1937
Luther DeBerry was born in Bogota, Texas on May 7, 1914. He finished high school in Bogota in 1931 and entered the University of Texas at Austin engineering school in September 1931. Mr. DeBerry worked part-time while a student at UT Austin and received his BS in Civil Engineering in 1937. He then became employed with the Texas Highway Department in the Paris District, working in various counties in that district until 1942. He took a leave of absence from his job and worked for the U.S. Corp of Engineers for two years, and then served two more years as a deck officer in the U.S. Navy.
In 1946, Mr. DeBerry returned to the Highway Department as a resident engineer in Rains County; transferring to Hunt County in 1950 as a Senior Resident Engineer. In 1953 he became Assistant District Engineer in the San Antonio District; and was promoted to District Engineer in the Lufkin District in 1958. He was appointed District Engineer in Dallas in 1960, and then Assistant State Highway Engineer in Austin in 1968. He was promoted to State Highway Engineer in 1973 and served in this capacity until his retirement in 1980.
While employed as State Highway Engineer, Mr. DeBerry received
the American Association of State Highway Officials highest awards. He served one term as President of the Western Association of State Highway Officials. He received the Thomas McDonald Memorial Award for outstanding service in highway engineering, and also the George Bartlett award for outstanding contribution to highway progress.
After retirement, he worked part-time for HNTB Engineering Consultants from 1981 to 1995. He was inducted into the Texas Transportation Hall of Honor at Texas Transportation Institute of A&M in 2003.