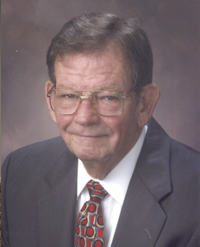 John E. Chance
B.S., University of Texas at Austin, 1949
John E. Chance is known as a pioneer in the critical areas of offshore positioning and navigation, geophysical surveying and seabed mapping, and geodetic and land surveying. His company was the leader in positioning offshore drilling rigs, production platforms and pipeline lay-barges. The incredibly accurate repository of information on the floor of the Gulf of Mexico that he developed over the years has been of incalculable value to the industry, providing such things as coordinates for moving a rig in deep water, location of subsurface hazards, and precise guidance for placement on-site.
Chance's career began with employment by Sun Oil Company in 1949. He left Sun Oil in 1957 to launch his own company. While his work in the Gulf of Mexico is legendary, John E.Chance and Associates quickly became a global organization. From the Gulf, Chance moved to the first overseas job in Bermuda in 1963 and on to setting survey points in Pakistan, seismic surveys in Portugal, dredging surveys in Brazil, searching the seas around Tahiti, locating the C5A which crashed offshore of Saigon, Vietnam with over 75 orphans onboard, clearing the Suez Canal, surveying around Bombay, India, and work off the coast of Greece.
Chance was also a leader in the use of advanced technology. In 1986, he implemented STARFIX, the world's first 24-hour commercial satellite-based positioning system. These and other cutting-edge accomplishments made John E. Chance and Associates one of the most trusted survey service providers in the world.
In 1995, Chance was awarded the College of Engineeering Distinguished Graduates award from UT Austin. His accomplishments earned him the United State Senate Productivity Award for Innovation, and the Louisiana Engineering Society James M. Todd Technological Accomplishment medal -- both for his development of the STARFIX positioning system.