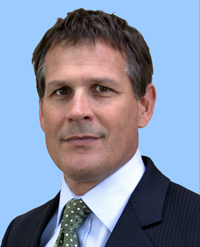 Dean W. Van Landuyt
M.S., University of Texas at Austin, 1991
B.S., University of Texas at Austin, 1982
Dean Van Landuyt had a 31-year career at the Texas Department of Transportation (TxDOT) as an innovative bridge designer and creator of thoughtful, aesthetic treatments to enhance the visual beauty of structures in the built environment. Now an associate principal at Architectural Engineers Collaborative, his medium and long span concrete bridges have earned numerous design awards for both architectural and structural innovation.
Born and raised in suburban Chicago, Van Landuyt earned his bachelors degree from UT Austin in 1982. Upon graduation, he joined the Bridge Division of the where he designed numerous overpass structures and was a member of the San Antonio "Y" segmental team.
He later earned his master's degree in 1991. During graduate school, he built and tested the first curved prestressed box girders subjected to lateral tendon breakout. After returning to TxDOT, he maintained a presence in research. He actively promoted and directed experimental testing of bridge deck behavior at free edges, full-scale shear testing of reinforced concrete beams, and innovative bridge railings. He also designed the first concrete banister railing, the Texas Classic, which is used throughout the country both in restoration and new construction.
Based on the success of the Texas Classic, Van Landuyt began to see it as the duty of public agencies to build more attractive structures. He lectured and lobbied across the state and country on behalf of improved aesthetics and has been a member of the Transportation Research Board's Bridge Aesthetic Sub-Committee since 2003.
Van Landuyt initially focused on re-interpreting and incorporating traditional architectural elements as a way to enrich a highway landscape that had become increasingly dull and indifferent. This led to the design of the U.S. 183 segmental bridge in Austin and the award-winning Liberty-Laurel overpass in Beaumont.
His later work focused on sculpting standard highway bridge elements into modern forms that emphasize light and shadow leading to the Prestressed Concrete Institute Award in 2007 for the Loop 340/I35 Overpass in Waco and the Portland Cement Association's 2010 Award for the Gulf Intracoastal Waterway Bridge in Matagorda.
His design of the West 7th Street Bridge in Ft. Worth will be the world's first precast concrete network arch when completed in 2013.