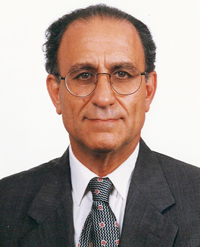 Fadlo T. Touma
Ph.D., University of Texas at Austin, 1972
M.S., American University of Beirut, 1969
B.S., American University of Beirut, 1966
Fadlo Touma is the founder of Rashid Geotechnical and Materials Engineers, a sizeable group of geotechnical engineering companies in the Persian Gulf. He has managed major infrastructure projects throughout the Middle East for over three decades and helped establish building codes for Saudi Arabia.
Before coming to University of Texas at Austin, he worked at Consolidated Engineering Company while working on his master's degree at the American University of Beirut. While at UT Austin from 1970 – 1972, he worked with Lymon Reese, publishing papers on "Behavior of Drilled Piers under Axial Loading" and "Behavior of Bored Piles in Sand."
In 1975, Touma started Rashid Geotechnical and Materials Engineers (RGME). The Saudi Arabian firm comprises a consulting geotechnical and environmental company, a site investigation and materials testing company and a ground engineering and piling company, employing more than one thousand engineers, scientists and technicians.
The firm has worked on many buildings that are predominant in the skyline of Riyadh including the Kingdom Centre, also called Al Mamlaka Tower, and the Al Faisaliah Tower. RGME also performed site investigation and materials testing on the North-South Railway which traverses Saudi Arabia.
During that same period in the Gulf, Touma also founded Engineering and Research International (ERI) of Champaign, Illinois, specializing in pavement evaluation and maintenance management.
He was elected vice mayor of his home town of Kabelias, Lebanon from 1998 to 2004 and was instrumental in authorizing various municipal projects. Touma also sat on the Committee for the writing of the Building Code of the Kingdom of Saudi Arabia, and contributed to foundation studies of coral soils on the Red Sea shoreline.
He sat on the UT Visiting Committee from 1994 to 1997 and helped establish a relationship between the ASCE Middle East Chapter and Departmental faculty. He is also a member of the organizing committee for the Lymon Reese Excellence Fund.