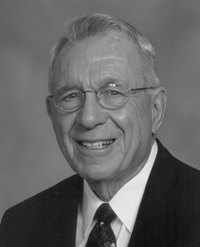 Edmund P. Segner, Jr.
Ph.D., Texas A&M University, 1962
M.S., University of Texas at Austin, 1952
B.S., University of Texas at Austin, 1949
Edmund Segner, Jr., an Austin native, is recognized for his contributions to engineering education in the U.S.. He has grown industry and academic research relationships in multiple states thus creating more opportunities for students to have hands-on engineering experiences in the classroom and lab. He is also a respected teacher and administrator who has held leadership roles at several large universities.
He began his engineering career in 1949 in Wichita Falls, Texas. He returned to the University of Texas at Austin to earn his MSCE degree in 1952, and then served in the U.S. Air Force as an engineering officer from 1952-1953.
In 1954, Segner began his career in higher education at Texas A&M University advancing from the rank of instructor to that of associate professor in 1963, during which time he also received his Ph.D. degree in civil engineering.
He has been a leader in higher education for over 40 years and has served five universities as Department Chairman, Dean of Engineering, and Associate Vice President for Research and Graduate Studies.
Segner joined The University of Alabama at Birmingham (UAB) in 1990 as chairman of the Department of Civil and Environmental Engineering and retired in December 1995. He continues to be involved with the department and UAB School of Engineering through service on two advisory boards and several committees, serving as Chair of the University's Conflict of Interest Review Board until 2000, and since as a consultant to its engineering dean and provost.
Segner has been very active in numerous professional societies and civic organizations, and was honored by ASEE in 1993 as one of 170 individuals who have contributed most to engineering education in the United States during the past 100 years.
He was selected Engineer of the Year by the Engineering Council of Birmingham in 1998. He currently serves on the President's Council for Birmingham Southern College. He is a Fellow and Life Member of ASCE and ASPE, as well as a Life Member of NSPE. He is a past recipient of the prestigious Silver Beaver award by the Boy Scouts of America and is also a former Eagle Scout.
Dr. Segner is a licensed professional engineer in four states, including Texas. As a Major in the Air Force Reserve, he was a liaison officer for four years for the U.S. Air Force Academy. He is author or co-author of many refereed publications and has made numerous presentations to national and state groups.