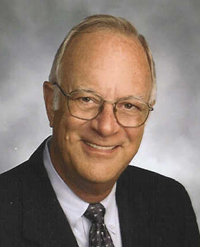 H. Ken Rigsbee, Jr.
B.S., University of Texas at Austin, 1967
Ken Rigsbee is a fourth-generation Austinite and son of an engineer. A proud UT architectural engineer, he worked at Phillips Petroleum Company for over 35 years, managing natural gas construction projects all over the U.S., and later served on legislative committees of oil and gas associations. Throughout his engineering career, he remained active in state and national civic and professional societies, sharing his technical expertise and leadership skills.
Upon earning his B.S. degree in Architectural Engineering from UT Austin in 1966, he began his career with Phillips Petroleum Company as a junior design engineer in Bartlesville, Oklahoma. He then worked in Raleigh, North Carolina, and in Kenai, Alaska as a construction engineer where he oversaw nearly 30 projects around the plant and state. He later returned to Bartlesville and became active in civic and professional affairs serving on the local school board and water district, and serving as president and chairman of the NSPE Education Foundation.
In 1988, Rigsbee came home to Austin to look after Phillips' government relations activities in Texas and Louisiana, and later assumed the responsibility for several other southern states. He retired from Phillips in 2002 when the company merged with Conoco.
While in Oklahoma, he served as President of the Oklahoma Society of Professional Engineers, Bartlesville chapter; president and founder of the Oklahoma Engineering and Technology Guidance Council; he was also regional chairman of the American Society for Engineering Education. Rigsbee was twice awarded Young Engineer of the Year by the Bartlesville Chapter, OSPE, and by the state organization in 1977.
In Texas, Rigsbee served UT Austin as a member of the department's Visiting Committee. He was recognized as Texas Engineer of the Year in 1995, and was named a Distinguished Alumnus of the Civil Engineering Department in 2003.
He received the Phillips Distinguished Community Service Award from Phillips Petroleum. He was named the second national Fellows of the National Society of Architectural Engineers. Rigsbee is a licensed professional engineer (structural) in the states of Texas and Oklahoma.