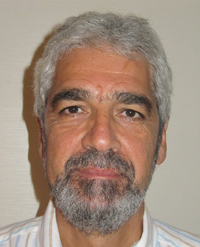 Alexis S. Sacre
M.B.A., INSEAD, 1983
M.S., University of Texas at Austin, 1977
B.S., American University of Beirut, 1973
Born and raised in Lebanon, Alexis Sacre is the former President of the Middle East Business Unit of the Coca-Cola Company. The values of education and tolerance that were instilled into him by his family at a young age enabled him to have a rich and diverse career and to gain insight from many people around the globe. He had two distinct and successful careers, first as a geotechnical engineer and then as a global business executive.
Alexis was a structural engineer with Middle East Consultants in Beirut before coming to UT Austin, where he was a research assistant for Professor Lymon C. Reese, studying the performance of drilled shafts under uplift loading conditions.
Upon graduation, he became an accidental expatriate as he could not return to war torn Lebanon. He was employed by D'Appolonia Consulting Engineers in Brussels and Paris, specializing in soil and rock mechanics and dynamics, and designing foundations for nuclear power plants and offshore structures.
As he became more involved with management, Alexis followed his interests and pursued graduate studies in business administration at INSEAD in France in 1983. After receiving an MBA, he joined the Abela Group of Companies, an international food service and hotel management company at their headquarters in London, as head of the Planning and Economics Department, and later as General Manager in Athens and Beirut.
After 14 years with the Abela Group, he joined Coca-Cola Hellenic Bottling Company, one of the largest bottlers and vendors of the Company's products in the world. Between 1998 and 2004, he managed the operations in Bulgaria, and then Romania and Moldova as Country General Manager.
In 2005, Alexis was appointed Regional Director, responsible for the operations in 6 countries. He then accepted a position as President of the Middle East Business Unit of the Coca-Cola Company, based in Bahrain. In this position, he interacted with over 20 bottlers operating franchises in 13 different countries.
After 14 years with the Coca-Cola System, Alexis retired in January 2011. When not spending time with family and friends, he now oversees his own investments and still supports senior managers in an advisory and coaching role.