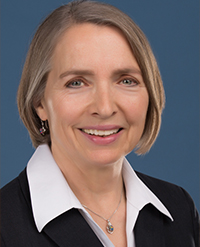 Mary Lou Ralls Newman
M.S., University of Texas at Austin, 1984
B.S., University of Texas at Austin, 1981
Mary Lou Ralls was born and raised in central Texas, and became a trailblazer in bridge engineering. She was the first female structural engineer in the bridge division of the Texas Department of Transportation (TxDOT) and went on the become Bridge Division Director, the highest-ranking bridge engineer position in the state. She also led the development of one of the most attractive and efficient new precast bridge systems, the Texas U-Beam, and was at the forefront of the development and implementation of modern technology such as high-performance concrete bridges and totally prefabricated bridge systems.
She earned a B.S. in Civil Engineering with Highest Honors in 1981 and a M.S. in Engineering in 1984, working with Dr. John Breen. Following graduation, she joined the Texas Department of Transportation, earning her Professional Engineer license in 1987.
She is a true pioneer in bridge engineering, with a 20-year career at TxDOT that included serving as the state bridge engineer and director of the Bridge Division from 1999 until retiring in 2004.
Under her direction, the division oversaw and provided assistance in program and project development; structural and geotechnical design; standards and plan development; plans, specifications, and estimates review; safety inspection including in-house fracture critical and underwater inspections; and bridge construction and maintenance support to the 25 districts for the 50,000 on-system and off-system bridges in the state.
After her retirement she became an engineering consultant and principal of Ralls Newman, LLC. The firm focuses on advancing bridge technologies.
Her activities with the American Association of State Highway and Transportation Officials (AASHTO) and the Federal Highway Administration (FHWA), among other groups, facilitated the implementation of the Texas U-Beam and precast technologies in Texas.
She has written various published technical articles and papers, and has received a number of awards including the 2004 Administrator's Public Service Award from FHWA, the 2003 Dr. L.I. Hewes Award from the Western Association of State Highway and Transportation Officials, and the 2002 President's Award in Research Category from AASHTO.
Outside of work, Ralls Newman has worked with Water to Thrive, an Austin-based nonprofit that funds water projects to those in need in rural Africa, and she is involved with a justice task force at her church that helps the less fortunate. She has also been a Technical Advisor for UT's Projects for Underserved Communities for the Tanzania 2014 & 2015 and Guatemala 2016 teams.