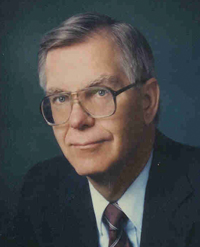 Fred N. Pfeiffer
J.D., University of Texas at Austin, 1962
B.S., University of Texas, 1959
Fred N. Pfeiffer, an engineer and lawyer, melded his professions into recognized service on the local, state and national levels. He served the San Antonio area for nearly forty years, strongly committed to public service and the development and protection of soil and water resources.
After graduating from the University of Texas, he served three years in the Texas Air National Guard before being commissioned in the Navy Reserve and serving as commanding officer.
He was employed by the San Antonio River Authority (SARA) in 1963 and promoted to General Manager in 1968, a position he held for 31 years, retiring in 2000. Under his leadership, SARA projects received three Chief of Engineers Merit Awards, an Outstanding Civil Engineering Achievement Award of Merit from the ASCE, and awards from the EPA, Texas Chapter of the American Society of Landscape Architects, the Consulting Engineers Council of Texas, the San Antonio Chapter of the American Institute of Architects and the San Antonio Conservation Society.
Pfeiffer served as president of both the Texas Water Conservation Association and National Water Resources Association, and on the Board of the Nationwide Public Projects Coalition. In 1981-82, he chaired the Water Resources Use and Conservation Committee of the Governor's Water Task Force.
By gubernatorial appointment, he served 17 years as a member of the Texas Advisory Commission on Intergovernmental Relations (four years as Chairman) and has served over 21 years on the Western States Water Council.
In 2000, Pfeiffer and his wife, Maria Watson Pfeiffer (BA, 1972) coordinated the placement of a Texas Historical Marker at the grave of John Lang Sinclair, writer of lyrics to "The Eyes of Texas."