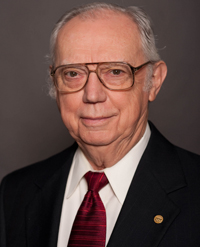 Roy E. Olson
Ph.D., University of Illinois at Urbana-Champaign, 1960
M.S.C.E., University of Minnesota, 1955
B.S.C.E., University of Minnesota, 1953
Roy Olson is a leading international scholar on soil behavior and its relevancy to geotechinical engineering practice, and a deeply dedicated engineering educator. A member of the National Academy of Engineering, he is considered by many to be the catalyst behind the success of the geotechnical program at The University of Texas at Austin. A highly-recognized engineering researcher and technical leader, his greatest pride is the accomplishments of his former students; many have become influential leaders in geotechnical engineering.
Olson attended public schools in Minneapolis. He remained in the Twin Cities to earn his B.S.and M.S. Througout his higher education, he worked summer jobs for the U.S. Army Snow Ice and Permafrost Research Establishment in Northern Greenland, the geotechnical firm of Dames and Moore in Los Angeles, San Francisco, Portland, and Seattle, and the geotechnical firm Woodward Clyde Sherard and Associates in Denver.
Olson received his Ph.D. from the University of Illinois where he began his career in academia in 1960 an assistant professor. He rose quickly through the ranks and was promoted to Professor in 1966. During this period, Olson established himself as one of the leading international scholars on soil behavior.
In 1970, he was hired by the Department of Civil Engineering at The University of Texas at Austin. He spent the next forty years working with many others to hire the most outstanding faculty and to elevate the department to fourth in the United States, a position it has occupied for more than a decade. Olson recruited notable faculty such as Kenneth Stokoe, Stephen Wright, David Daniel and Robert Gilbert, each of whom have made a remarkable impact on the geotechnical profession.
Throughout his career, he assumed high-level leadership roles in professional societies while actively teaching and mentoring students. In the Geotechnical Engineering Division of the ASCE (now to Geo Institute), Olson served as Chair of the Soil Properties Committee, the Research Committee, and the Awards Committee. He also served on the Executive Committee for 10 years, the Board of Trustees of the Deep Foundations Institute, and the UK's Institution of Structural Engineers.
Olson been widely recognized for his professional accomplishments - he received the Huber Research Prize, the Croes Medal, the Norman Medal, the Terzaghi Lecture, the ASTM Hogentogler Award (twice) and was selected to the National Academy of Engineering in 2003 "for furthering our understanding of properties of clays and for contributions to geotechnical engineering design.