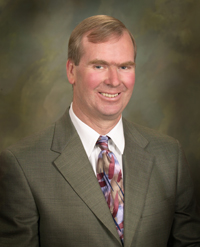 Larry D. Olson
M.S., University of Texas at Austin, 1983
B.S., University of Texas at Austin, 1978
Larry Olson embarked on his career as a nondestructive and destructive testing specialist in 1980, when he began working for CTL/Thompson, Inc. in Denver, Colorado as a Geotechnical Project Engineer. He was initially responsible for conducting geotechnical and materials investigations for residential, commercial and industrial sites.
In 1985, he started Olson Engineering, Inc. to provide consulting services based on nondestructive testing and evaluation of structures and infrastructure. The firm's staff includes engineers with backgrounds in Structural, Geotechnical, Geophysical, Pavement, Materials, Electrical and Mechanical Engineering.
Olson Engineering has executed consulting projects in virtually all of the 50 states as well as on an international scale. Noteworthy projects include preservation studies of the concrete substructure and marble of the Lincoln and Jefferson Memorials; construction quality audit of the embankments, bridge foundations and tunnel linings of the Korean High Speed Rail line; and impact echo testing of an air shaft in the Cheops Great Pyramid at Giza, Egypt using a concrete thickness gauge on an iRobot tracked robot.
Soon after the inception of Olson Engineering, Larry saw the need for user-friendly equipment like field portable apparatus and created Olson Instruments. Incorporated in 1995, Olson Instruments has sold its ultrasonic, sonic, seismic and structural health monitoring instruments in over 40 countries. Larry also holds two patents on Impact Echo Scanning (for structures) and Parallel Seismic/Cone Penetrometer (for unknown foundation testing).
In addition, Larry has generously given his time to the CAEE Department by serving on the Visiting Committee as a member and as chair. He continually collaborates with various faculty and students on research projects and regularly gives invited lectures).