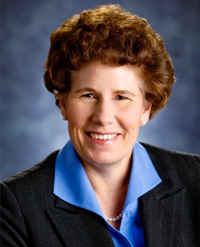 Kelley S. Neumann
M.P.A., University of Texas at San Antonio, 1992
B.S.C.E., University of Texas at Austin, 1981
Kelley Neumann graduated from The University of Texas at Austin as a Distinguished Military Graduate and was commissioned as 2nd Lieutenant in the Army Corps of Engineers. She spent over five years on active duty in the Army where she was often the first female officer to be assigned to her unit. Later as an an executive leader for the San Antonio Water System (SAWS), she managed the planning, design and construction of the utility's large capital programs, and has been involved with the development of San Antonio's long range water management plans.
After her career in the Army Corps of Engineers, she returned to San Antonio to work for the Fort Sam Houston Department of Public Works. She spent several years as the Airport Engineer at the San Antonio Airport and was involved in the reconstruction of one of the primary runways.
In 1992, Neumann went to work at the newly formed San Antonio Water System (SAWS) and has held many different assignments for the utility. She recently retired as the Senior Vice President of Strategic Resources, and manages the Engineering and Water Resources groups. As part of this role, she oversaw a large infrastructure renewal effort and the construction of water supply projects and wastewater system expansions.
By gubernatorial appointment, Neumann served on the Texas Board of Professional Land Surveying for nine years. She is active in Texas Society of Professional Engineers and is past President of the Bexar Chapter. She is also a member of the American Water Works Association Climate Change Committee and remained in the Army Reserve for over 20 years.
She is highly involved in mentoring and champions the college internship program at SAWS. She chairs the Trinity University Engineering Board of Advisors and also serves on the Engineering Boards for the University of Texas at San Antonio and the University of the Incarnate Word. In recognition of these activities, Neumann was recognized as the Mentor of the Year by the National Society of Professional Engineers in 2009.