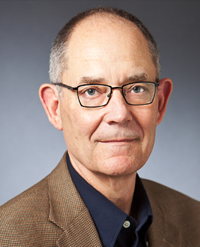 G. Charles Naeve
B.S.Ar.E., University of Texas at Austin, 1974
Chuck Naeve is a founding member and Managing Principal of Architectural Engineers Collaborative (AEC), a consulting structural engineering firm based in Austin, Texas. Under his leadership, the firm has a long history of innovation and sustainable structural design of buildings and is recognized as a leading structural engineering consultancy in the Southwest. Naeve and his team have made design contributions in concrete, steel, wood and masonry structures to nearly every building in Austin's recent history.
AEC was established in 1998 with a mission to practice architectural engineering, a direct reference to the education Naeve embraced while attending UT Austin's School of Architectural Engineering. He is a firm believer that structural design and architectural design are inseparable in the realm of building and that architectural engineers, trained in the overall aspects of building design, produce buildings that are improved functionally, environmentally, economically and aesthetically.
As Managing Principal, Naeve has guided AEC through a diverse portfolio of projects, resulting in the firm's reputation as the region's go-to firm for "creative structural engineering in support of architecture."
As a structural engineer, Naeve is known for creating aesthetic structures in support of the building architecture, for developing sustainable building structures in harmony with the environment, for his ability to teach and inspire, and for his enthusiastic participation within the project team.
Naeve is the Engineer of Record for the Barbara Jordan Terminal at Austin Bergstrom Airport and has managed structural design for several major buildings, including the Long Center for the Performing Arts, the Austin Convention Center Expansion and the United States Courthouse in Austin.
He has been recognized by the Austin Chapter of the American Institute of Architects, and the Texas Society of Architects as an Honorary Member in recognition for his significant contributions to the built environment.
In addiion, he is a frequent guest lecturer and mentor at the CAEE Department and served as a member of its External Advisory Committee from 2005-2008. He has also lectured and served on juries for the department and the School of Architecture at The University of Texas at San Antonio.