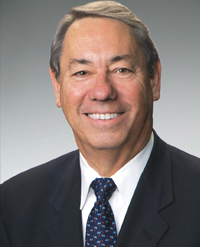 H. Thomas Kornegay, Jr.
M.S., Oklahoma State University, 1966
B.S., University of Texas at Austin, 1964
Tom Kornegay served as the longest serving Executive Director in the history of the Port of Houston Authority. He held numerous positions at the Port Authority during his 37 year career, working his way through the ranks. Throughout his career, Kornegay also served in a leadership role in many of the maritime industry's most prominent policy-making organizations.
Kornegay holds a master's degree in Architectural Engineering from Oklahoma State University and a bachelor's degree in Architectural Engineering from the University of Texas. In 1998, he was certified by the American Association of Port Authorities (AAPA) as a Professional Port Manager.
While working in the Port Authority engineering department, Kornegay developed the Master Plan for the Fentress Bracewall Barbours Cut Container Terminal, which opened in 1976 and is the busiest container terminal on the U.S. Gulf Coast. This container terminal also set the course for continued economic development in the Houston metropolitan region since its inception.
He served in the engineering department for 15 years before being appointed as managing director and finally Executive Director. In this role, he was instrumental in the completion of the $700M Houston Ship Channel deepening and widening project, which included significant environmental, safety, and economic benefits for the Houston region as well as the State of Texas.
He has been affiliated with the International Association of Ports and Harbors (IAPH) for more than 25 years and has risen through the ranks of IAPH leadership, serving as president from 2005-2007. He also represented the American Association of Port Authorities (AAPA) as an advisory member of the U.S. delegation to the International Maritime Organization. He served as chairman of the board and chairman of the U.S. Delegation for AAPA as well.
Kornegay received the Russell H. Perry Award presented by the Texas Department of Transportation in recognition of outstanding contributions to transportation in 2005.