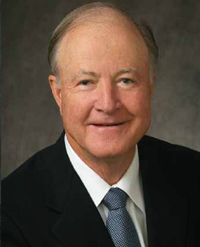 Berry R. Grubbs
B.S., Arlington College (UT-Arlington), 1963
M.S., University of Texas at Austin, 1965
Sponsored by five major oil companies, the field tests that Berry Grubbs performed as master's student were used to develop criteria which is still in use today for offshore platform foundation design. A leader in offshore geotechnical engineering, he has also provided geotechnical, environmental, and construction testing for major public infrastructure projects in Texas.
Upon graduation from UT in 1965 with an MS in Civil Engineering, Berry Grubbs stayed in Austin to work for Dr. Lymon Reese (Reese & Cox Engrs) conducting research on laterally loaded piles in sand and stiff clay.
Grubbs later joined Mechanics Research's Houston office as project manager for instrumentation and monitoring of structural response to wind and wave forces on Conoco Oil platforms in the Gulf of Mexico. He also performed Department of Defense work, developing structural design of launch buildings subjected to short range missile explosions.
In 1970, he joined National Soil Services, Houston, to establish the firm's offshore geotechnical engineering practice and to conduct marine investigations in the Gulf of Mexico, South and Central America. In 1974, Grubbs joined the Houston startup of Fugro Gulf as Vice President and became President in 1978.
He led the Houston office's national and international practice in offshore geotechnical engineering. Shortly thereafter, he established Terra-Mar Consulting Engineers which eventually grew to six offices in Texas. The firm worked on notable projects including the $2.6 billion dollar expansion of D/FW Airport, the Ranger's Ballpark at Arlington, Dallas Rapid Transit's light rail line, Texas Motor Speedway and numerous highway and building projects.
Grubbs has served on the Dallas Rapid Authority Board and the Metrocrest Hospital Authority Board. He was also Chairman of the Farmers Branch Chamber and was elected as Mayor Pro-Tem of Farmers Branch.
One of his proudest achievements was his role as Co-Chair of a committee that reworked DART's light rail plan. He has also participated in fund-raising for endowments for Hudson Matlock, Lymon Reese, and the Centennial Fund and has served on the Engineering Advisory Board.