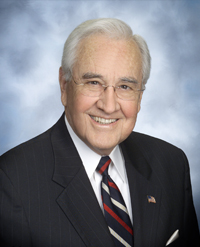 S.A. Garza
B.S., University of Texas at Austin, 1955
B.A., University of Texas at Austin, 1952
Severiano A. Garza is recognized for his expertise in water treatment and transmission and for sharing his knowledge with public health agencies in the U.S. and Latin America. He has received honors for developing innovative technologies, establishing programs for the transportation of wastewater at state and national levels, and for his civil service to the community.
He earned a bachelor's degree in education in 1952 and one in civil engineering in 1955 from UT Austin. He served as a sanitary engineer with the Texas Health Department from 1953 to 1955, then became a junior design engineer with the City of Austin. He later took a job as director of projects with Isom Hale Associates in 1962, where he stayed a year before founding his own firm S.A. Garza Consulting Engineer. His company S.A. Garza, P.E., is a civil and sanitary engineering firm. It provides engineering services for the treatment, transmission and distribution of water.
In 1956 he became a member of the Texas Society of Professional Engineers and served as the national director for that organization in 1959 and 1960. He is a member and past national director of the Water Environment Federation and he was chairman of a U.S./Mexico Border Environmental Issues task force from 1995 to 1997. From 1988 until 1995 he served as southwest director of the Inter-American Society of Sanitary & Environmental Engineers. He was director of the Greater Austin Chamber of Commerce from 1972 to 1974 and is a member of the Mexican-American Chamber of Commerce.
He was honored with the President Ronald Reagan Citation for Private Sector Initiatives in 1987. Garza was also recognized as an honorary member of the Republic of Mexico Congress of Civil Engineers in 1993.
From 1978 until 1984 he was a member of the board of Goodwill Industries. He has served as a trustee at St. Edward's University from 1981 until 1990. His service to UT Austin includes memberships on the Chancellor's Council, the Engineering Foundation Advisory Council and the President's Association. He is also past president of the Dad's Association and is a Friend of Alec.