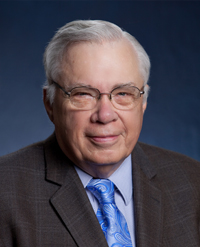 William H. Espey, Jr.
Ph.D., University of Texas at Austin, 1965
M.S., University of Texas at Austin, 1963
B.S., University of Texas at Austin, 1960
Bill Espey came to The University of Texas at Austin on a football scholarship and has had an exemplary 50-year career as a researcher, consultant, educator, and mentor in the field of water resources engineering. He has contributed notable advancements in urban watershed analysis, storm-water management, and hydraulic modeling.
Espey completed all three civil engineering degrees at UT. As an outgrowth of his Ph.D. dissertation, his Urban Unit Hydrograph methodology has found application in both state and city drainage design manuals and is published in several textbooks, including the "Civil Engineering Reference Manual" for the PE exam.
After graduation. Espey started his career with the U.S. Geological Survey Water Resources Division and later joined TRACOR in 1965. In 1972 he co-founded Espey Huston & Associates Inc. (EH&A) and served as President and Chairman of the Board until 1993. EH&A provided engineering and environmental consulting services employing over one thousand people in several offices in the U.S., as well as England and Mexico.
An eminent practitioner, Espey has served on many boards, committees, and workgroups to craft policy, implement new laws, develop solutions to complex environmental impacts of public works projects, and guide engineering programs at institutions of higher learning.
He was also instrumental in founding ASCE's Environmental and Water Resources Institute (EWRI) and is also one of the founding members of the AAWRE. In addition, Espey has served as the chairman, since 1980, of the Lake Michigan Diversion committee that was mandated by the modified Supreme Court Decree of 1980.
His work and teaching in the areas of water resources and oceanography demonstrate an overall understanding and high level of expertise in water quality, stream gaging, flood-water, urban runoff, tidal effects, biology in estuarine environs, and freshwater inflow requirements to bay systems. The associated statistical analysis expertise has been also applied to many of these projects that form the base for regulatory rule-making.
In 1993 he founded Espey Consultants, Inc. which now has offices in Austin and Houston, providing engineering and environmental services. Currently a senior vice president for RPS Espey, which is part of the RPS Group plc, Espey is a leading technical expert who develops new techniques of analyzing and solving water resources challenges.
Espey also taught several courses at UT as a vising professor and participated in technical seminars for students. In 1986, he was honored as a Distinguished Graduate of the College of Engineering, at the University of Texas.