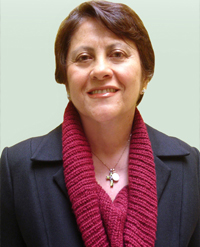 Elia King de Jordan
MBA, ESAN Graduate School of Business, 1979
M.S.C.E., University of Texas at Austin, 1974
B.S.C.E., University of Texas at Austin, 1970
Elia King is recognized for her creative, innovative, and transformative leadership in multinational, high-performance organizations. She has utilized the project management skills and business acumen she acquired as a civil engineer to become an entrepreneur. She leads an international company that researches, develops and commercializes natural beauty and skin personal care products from the Peruvian Andes and Amazon.
Supervised by Dr. Clyde Lee, King earned B.S. and M.S. degrees in civil engineering at The University of Texas at Austin. She was often the only female in her classes.
She began her professional career in transportation engineering with the Ministry of Transportation and Communications in her hometown of Lima, Peru. After a few years, King began a new phase of professional development in organizational management and earned a Master of Business Administration from ESAN University, and a PAD from Universidad de Piura.
She worked at the pharmaceutical firm Eli Lilly and Company for 24 years and became the corporation's first female general manager in its 118-year history. King later advanced to general manager and supervised the regional organization for 11 countries in the Andean and Central American region, helping accomplish a profit growth of 17%.
Now as an entrepreneur, she is serving as chief executive officer of a natural products company, Rais Vida, and has expanded the Peruvian company's natural beauty and wellness products market internationally. The company, now ten years old, promotes social responsibility and sustainable development of agricultural communities that feeds the company's all-natural supply chain.
King has frequently received recognition for her business and leadership skills. She has been profiled in several trade magazines and the book Mujeres Batalla by Antonio Orjeda. She also received a Gold First Place Award for Creativity and Entrepreneurship from the Ministry of Women and Social Development.
She also serves as a member of the board of several private enterprises and nonprofit organizations, and is a frequent guest speaker on various business topics.