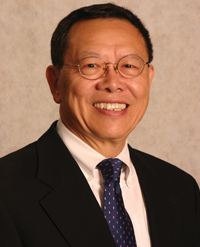 W. Walter Chiang
M.S., University of Texas at Austin, 1970
B.S., The Chung Yuan Christian University, 1966
Born in China, Wen-Jo "Walter" Chiang grew up in Hong Kong and Taiwan. He is a recognized leader in the improvement of the water environment throughout a distinguished career in the wastewater treatment industry. He has nearly 50 years of design and project management experience in both environmental and civil engineering projects and is a Board Member and Founder of Chiang Patel & Yerby, Inc. (CP&Y). He also has an unmatched passion for education and is former adjunct faculty member of the Civil Engineering Department at the University of Texas at Arlington.
He came to Texas in 1968 as an engineering research assistant under Earnest Gloyna, Joseph F. Malina, and Wesley Eckenfelder, Jr., pioneers in industrial wastewater management and mentors to numerous practitioners, professors and students.
Chiang was first employed by URS (formerly Forrest and Cotton, Inc.) from 1971 to 1976 as a civil/environmental engineer and then later as a project engineer. He has also served as an adjunct faculty member of the Civil Engineering Department at The University of Texas at Arlington from 1976 to 1991, teaching water and wastewater treatment design and industrial wastewater treatment.
After working as Project Manager for Dow Chemicals (formerly Hydroscience, Inc.), he started his own firm, Chiang and Associates, Inc., in Arlington, Texas in 1980. Now headquartered in Dallas, the firm is known today as CP&Y, Inc. and has offices in McKinney, Fort Worth, Austin, Houston, San Antonio, Oklahoma City, and Phoenix. Under Chiang's leadership, the firm has evolved from an environmental services company to a multidisciplinary engineering firm and has earned a reputation for performing high quality engineering and planning work.
Chiang specializes in water quality assessments, process design, treatability studies, pilot plant studies, and alternative treatment technologies for water and wastewater treatment. He has been involved with projects throughout Texas, other parts of the U.S., and in China, Hong Kong, Taiwan, Puerto Rico, and Mexico.
Chiang is a member of AWWA, WEF, and was the original chair of Municipal Wastewater Treatment for the Water Environment Association of Texas. In addition, he has also conducted lectures and authored/coauthored numerous technical papers and books in the water, wastewater, and solid waste areas.
In addition, Chiang is involved in many business and civic organizations in the Dallas-Fort Worth area. He is a member of the Dallas Regional Chamber of Commerce Board of Directors and serves on the DRC Water Board. He is also a member of the Fort Worth Chamber of Commerce Board of Directors and serves on the International Development Board. He also provides generous support to the Department of Civil, Architectural and Environmental Engineering helps students and faculty realize their academic goals.