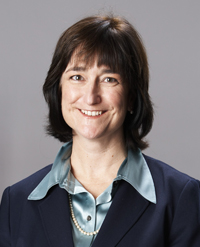 Grace Hyde
M.S., University of North Carolina, 1983
B.S., University of Texas at Austin, 1981
Grace Hyde has distinguished herself in both professional and public service, and is a technical expert in metropolitan sanitation planning, operations, and research. She has 27 years of experience working in the public sector at the Los Angeles County Sanitation Districts (LASCD), which provide solid waste and wastewater management services to over 5.5 million people throughout the Los Angeles metropolitan region.
Her career with the LASCD began after she received her master of science in environmental engineering from the University of North Carolina. She rose through the engineering ranks, from project engineer to supervisory engineer to manager and then to her current position as the first female Assistant Chief Engineer and Assistant General Manager of the Districts. In this role, she is involved in research, long range planning, environmental permitting and compliance, and solid waste and wastewater operations under a budget of $800 million for wastewater management and $400 million for solid waste management. She oversees a staff of approximately 2,000 including engineers, scientists, operations employees, and administrative personnel.
LASCD is widely recognized as one of the most progressive agencies in the country in the area of innovative wastewater and solid waste management programs. She helped manage the re-permitting of Puente Hills Landfill, one of the largest landfills in the U.S., satisfying technical and regulatory requirements and addressing active community and political opposition. She also managed the operation of ten water reclamation facilities located throughout Los Angeles County, including the San Jose Creek Water Reclamation Plant, which treats approximately 100 million gallons/day of wastewater daily.
Throughout her career, Hyde has been actively engaged in the California legislative process to improve solid waste management. She has also participated in numerous professional organizations such as the California Association of Sanitation Agencies and the Solid Waste Association of North America, where she served as a member of the Board of Directors for the Southern California chapter for ten years, including two terms as President.