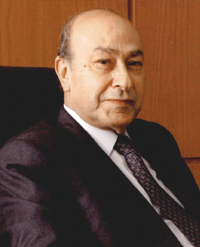 Zuheir Y. Alami
Ph.D., University of Texas at Austin, 1962
M.S., University of Texas at Austin, 1966
Bsc., Cairo University, 1957
Zuheir Alami was born in Gaza, Palestine in 1935 and currently splits his residence between Beirut and Dubai. He is Senior Partner of Khatib & Alami, a multidisciplinary urban and regional planning, architectural and engineering consulting company. Throughout the years, he helped grow the company into one of the most highly respected consulting firms in the Middle East and in the world.

After receiving his undergraduate degree from Cairo University, Alami attended the University of Texas at Austin, obtaining advanced degrees in civil engineering. During his time at UT Austin, he was elected president of the student chapter of the Organization of Arab Students (OAS) and later became vice president of the national organization in the U.S. He was also member of Chi Epsilon and Tau Beta Pi and graduated with highest honors.
Upon graduation in 1962, Alami resided in Lebanon and taught structural analysis courses at the American University of Beirut (AUB) for fourteen years. In 1964, he joined Consolidated Engineering, a Beirut consulting company, as its Vice President and Senior Partner. Starting with a handful of engineers, the company, now known as Khatib & Alami, currently has more than 3,000 employees with offices throughout the Middle East.
Khatib & Alami is primarily involved in engineering, planning, industrial development, architecture, transportation and environmental projects. Typical projects include water treatment plants, entire railroad projects, high-rise office and residential buildings, environmental projects, and the master development plans for the cities such as Damascus and Baghdad.
Alami is fully devoted to his company's activities and is directly involved in overall management, business promotion, joint ventures and major contract negotiations. He and his firm have contributed substantially to improving the health and well-being of the people of the West Bank and Gaza, Lebanon, Saudi Arabia, United Arab Emirates, and Qatar. He is also committed to supporting the revitalization of his native Gaza, where his firm was also involved in sewage and water treatment plants. Alami personally funded the building of the Zuheir Alami Secondary Boy's School as well as Al Nour Mousque in Gaza City.