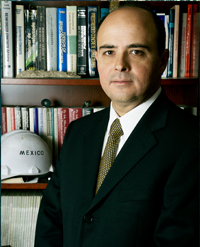 Sergio M. Alcocer
Ph.D., University of Texas at Austin, 1991
BSc., Universidad Nacional Autónoma de México, 1986
With a distinguished career in engineering research, higher education and public service, Sergio M. Alcocer is a Research Professor at the Institute of Engineering of the National Autonomous University of Mexico (UNAM) and the former undersecretary for North America in the Ministry of Foreign Affairs of Mexico. In 2017, he was inducted into the National Academy of Engineering for improvements to the seismic safety of buildings in developing countries through improved design standards and government policies.
Alcocer received his bachelor's degree in civil engineering from Universidad Nacional Autónoma de México (UNAM) in 1986 and earned his Ph.D. in civil engineering at The University of Texas at Austin in 1991. After completing his doctorate, he returned to Mexico City, where he managed structural and geotechnical engineering at the National Center for Disaster Prevention (Centro Nacional de Prevención de Desastres) at UNAM. He became the center's research director in 2000.
While serving as a research professor in structural engineering at UNAM, he earned the UNAM Prize for Young Academics, as well as the Prize on Research from the Mexican Academy of Sciences. He soon rose to an administrative role at the university, serving as the coordinator for innovation and development, director of the Institute of Engineering from 2003 to 2007, and, finally, provost of the university from 2008 to 2011.
In 2011, Alcocer joined the Mexican government as undersecretary for strategic planning and technology development for the Ministry of Energy. In his most recent role as undersecretary for North America in the Ministry of Foreign Affairs, which he assumed in 2013, Alcocer worked to advance Mexico's presence in the international arena and strengthen its ties in North America through trade, labor, investment and cultural exchanges.
Alcocer is a member of the Advisory Committee on Structural Safety of the Mexico City government and is an active member in several technical societies, including the American Concrete Institute (ACI), Earthquake Engineering Research Institute (EERI), American Society of Civil Engineers, Precast/Prestressed Concrete Institute, International Association for Bridge and Structural Engineering, and Fédération Internationale du Béton.
He was previously a member of the board of directors of ACI and EERI and is a former president of the Mexican Society of Structural Engineering. He is a member of the Mexican Academy of Sciences, as well as a member of the board of Fundación ICA. He is a former member of the board of Empresas ICA, the largest construction company in Mexico. In 2007, he received the SMIE Prize on Structural Engineering for Housing.