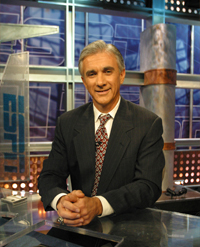 Raúl E. Allegre
M.B.A., University of Texas at Austin, 1996
B.S.C.E., University of Texas at Austin, 1984
Raúl Allegre was born in 1959 in Torreón, México and came to the U.S. as an exchange student in 1977. Originally a soccer player, he received a football scholarship to attend the University of Montana where he studied for two years before transferring to The University of Texas at Austin to pursue a degree in civil engineering. He excelled in the classroom and as a kicker on the football field, and went on to build a career in Spanish language sports broadcasting and marketing.
Prior to graduation, Allegre was signed as a free agent by the Dallas Cowboys in the fall of 1983 and traded to the Baltimore Colts prior to the beginning of the football season. He returned to UT to complete his civil engineering degree graduating with honors in May 1984. He played football two years with the Indianapolis Colts and later six more with the New York Giants where he was a member of two Super Bowl champion teams. He continued practicing civil engineering during two off-seasons, working for the Indiana Department of Transportation.
His active player days ended in 1992 due to injury and he entered the UT MBA program in the fall of 1993. During the course of his studies, he started a company to work with NFL Films in the production of Spanish-language NFL programming and launched a marketing and sports promotion firm. This new venture led to a career in broadcasting.
Allegre is one of the most recognizable faces to the Spanish-speaking football fan; he currently broadcasts NFL Monday Night Football to Latin America on ESPN. He is also a contributor to many other ESPN programs and dedicates much time to civic activities and charities.
Throughout his NFL career, Allegre made community involvement a priority, and he continues his volunteer efforts to this day. He currently serves as vice president of the NFL Alumni in Austin, overseeing the local effort for the "Caring for Kids" national charity program.